Welcome back SWFTT players! We hope everyone had a wonderful Christmas, or Holiday of your choice, and all will have a "Happy Tennis New Year"!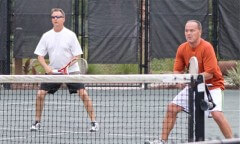 I can say for myself, it was very needed to be on the courts Friday exercising instead of saying "please pass another piece of pumpkin pie"!
The morning was questionable to say the least. Rain followed by total cloud cover looked to dampen our comeback. The Landings team was called by Beachview and told their courts would not be playable. Captains worked and moved the match time and place to the Landings and 16 great players had a great time. The first match completed was won by the Landings. Second match completed won by Beachview. Third match Beachview goes ahead and rallied in the fourth match in a third set super break to win and take the honors of a 3-1 victory.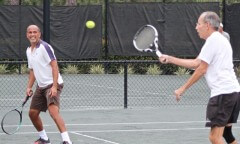 The Vines hosted Pelican Landing to another nail biter. Not sure why most of the "kiss your sister" 2-2 ties always seem to happen to Captain Bill Dueease, but it happened again. Bill did get the last laugh though, sticking Pelican Captain Gary Engelhard with an $80.00 beer tab (don't worry, if I had Gary's money, I'd burn mine)!
Plantation hosted Lighthouse Bay for the third match of the day. All matches were great matches and the decision for the 3-1 victory went to Plantation in a 3rd set super break. Special thanks to Captain Dick Ransom for taking and providing photos.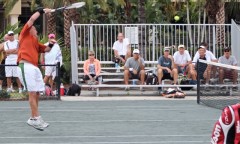 We had 48 guys that enjoyed great tennis, not to mention the loads of fans. Great job, great playing and it's great to be back on the courts. Good luck to all SWFTT members playing in the Super Senior Grand Prix this coming week.
Have fun, play tennis and remember, "It's great being us"!