Hey Hey SWFTT'ers. Week two is over and another week of great matches.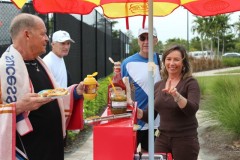 Lighthouse Bay hosted the Landings team. What a bunch of great guys and great competitors. Lighthouse took 3 of the 4 matches but not without a battle. Court 1 battle between Lighthouse team Joe McAleer/Fred Drilling playing against Landings number 1 court of Steve Shreiner/Mike Barnes was as good as it gets. It went to the third set super break and we were on the sidelines wishing for them to play it out. Lighthouse did finally win but what a match it was.
Plantation hosted Pelican Landing and hosted a great match and also cooked hot dogs, served beer and cupcakes (Lighthouse take notes please)! Pelican won 3 matches but all 3 matches were third set super break wins.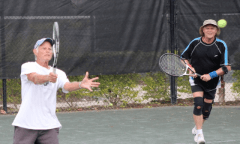 Beachview played their first match of the season at Cape Coral Racquet Club. Beachview had roster issues only having 4 players available due to out of town and injuries. Vines team had a bye and was able to lend players so the match went on without a glitch. It's great having the flexibility the League offers so teams can play tennis which is our number one goal. PLAY TENNIS!
Again, I would like to thank the Team Captains for the work they do and for the players making this fun and competitive League possible.
I hope all of you and your families have a Happy Thanksgiving, remember our servicemen serving our country, and always give thanks for every day we have living the dream we live!
God Bless!
Capt. Blake